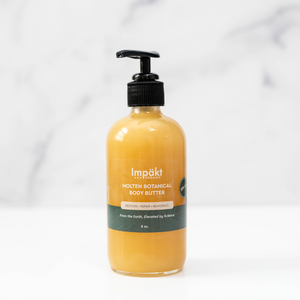 Oils + Butters + Botanicals
Plant extracts, handmade infusions, and oils will transport you and move you with the authentic scents of the most beautiful and medicinal botanicals on Earth. 

This deep and intensely moisturizing molten immersion will instantly restore and repair the worst of skin damage and trauma. Developed for the most severe of skin damage from environmental, repetitive washing, and chronic illness related conditions. Deeply infiltrating oils and extracted phytonutrient compounds enter cells and help to regenerate and heal. Raw silk extracts and crushed blue pearls reduce scars, irregularities (lines, spots, uneven tone) and increase moisture retention for a return to healthy skin. 
For Optimum Results:
Apply a few pumps to body as desired and massage into skin. Soaks in fully in 10-15 minutes. Start with smaller amounts until you have found the perfect amount for your needs.
UV protection level:
SPF 15+
Ingredients: Pure Organic Lanolin, Raw Fresh Beeswax, American Oryza Sativa, Organic Pure African Shea Butter, Organic Oils (African Shea, Japanese Camellia, Senegalese Hibiscus, American Meadowfoam, Namibian Marula), Crushed Blue Pearls, Raw Silk Extract, Hyaluronic Acid, Botanical Extracts (Corsican Helichrysum Italicum, Italian Bergamot, Madagascan Ylang Ylang, Indian Jasmine, Canadian Citrus, Bulgarian Rosa Damascena, Ravintsara Cinnamomum Camphora), Specialized Extracts (Kigelia Africana, African Rooibos, African Potato, Sutherlandia Frutescens, Indian Ashwagandha, Gynostemma, Southwestern Aloe, Broccoli Seed, Cacao Seed)
Outstanding
Hi.Love the body butter! No harmful ingrediants,subtle fragrance,and absorbes nicely not feeling "greasy" on my skin.I also noticed that a small amount of the "butter" covers alot.This product "soars" above the rest! Outstanding. Thank you.
Jeffrey M. Sebastian
Love this product!
I am so glad I purchased this product for myself and another for my sister as we both live in environmentally hostile conditions during the winter and in summer for me as well as I am in an area with little moisture, my skin dries out! I love that I can use a little or a lot depending on what I need and it stays on my skin and nourishes it effortlessly :)
I'm hooked...
I discovered this product at a booth at AHNA conference in Albuquerque, NM and I tried to squeeze every drop out of my little glass bottle...was able to purchase the bigger bottle and this will last me a while....love this for my skin...
Body Butter is Amazing
I just love this product. I have a patch of winter itchy skin all year round and after several applications at night before bed, the itching has stopped - I'm so pleased that I am using it everywhere now!