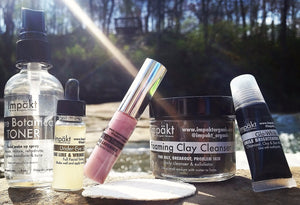 For total facial regeneration.
This collection is specifically crafted for combating:  lines, wrinkles, bags, puffiness, sagging skin, dry patches, oily skin, acne, blemishes, uneven tone, radiation or UV damage, and patchy areas. Signature Glossing Lip Treatment and smile brightening Glo-White help bring together a new glowing look of health and radiance. The unique application of the set creates enhanced results with easy directions included!

For Optimum Results:
2-3 month supply & $16 savings!
The Organic Peel & Lift Total Facial Collection includes:
1. Foaming Clay Cleanser: 2oz.
Choose your strength:
Full Strength:

100% strength (VEGAN)

Medium Strength:

50% strength + additional Organic Shea Oil (VEGAN)

Ultra Sensitive Strength: F

or the most sensitive skin types (facial eczema, psoriasis, similar conditions) (NOT VEGAN-Goat's Milk Soap Base used)
**Organic Luffa facial buffing disc is included in every collection**
2. Under-Eye Serum & Facial Toning Oil: Full size
3. Rare Botanical Facial Toner: 2oz.
4. Glo-White Smile Brightening Treatment: Sample size
5. Glossing Lip Treatment: Full size (Indicate if VEGAN version is desired in notes). 
Special treat for myself
This facial set is just phenomenal. It's amazing for when I have acne since it helps it go away while leaving my face extremely soft.
:heart_eyes::heart_eyes:
This set!!:raised_hands::skin-tone-5::raised_hands::skin-tone-5::+1::skin-tone-5::+1::skin-tone-5::heart_eyes: my skin is GLORIOUS!! Everyone keeps asking me what am I using.
What a change
So, I have been using this facial collection for about 1.5 years. I have noticed some huge changes in how healthy my skin is and how it feels. Over the last year I decided to transition off of using most of the makeup that I had been. Not very much anyways, but once I started looking at the ingredients in them I knew I couldn't keep using them. Plus, they were only a bandaid for the problems I was having. Mainly breakouts, unevenness, and combo super oily and dry patches.
I was hesitant (leery really) of using an oil directly on my already oily face. I was imagining double breakout city. But with a long weekend I took the chance. It was amazing and it really did work. The clay cleanser was incredible (it foams up and just takes all the dirt and oil) and leaves my skin feeling like polished silk. Then the combo of the serum drops mixed with the toner is exactly what my face needs for the follow-up to a clay treatment. I can feel my face tingling a bit (feels a bit cooling) and I just have the most healthy glow to my skin.
I have tried every pill, cream, and expensive system (can't believe what I paid for some...) that you can think of. They either didn't work or didn't work well enough to buy again. Always searching, never finding. Until this. And the fact that it's all organic and can actually improve my skin and help my whole body?! Double bonus!!
Pure bliss
I love using the whole facial system, especially right after I get done working out. It makes my skin actually feel clean and look healthy!
Deb Psaila
I love using the products. My skin feels so soft.