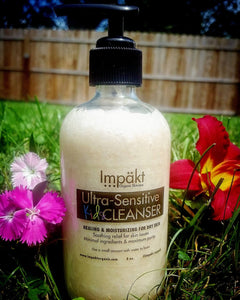 Hypoallergenic with minimal ingredients; for use on extremely sensitive skin types.
This gently renewing organic baby and children's wash cleanses and soothes your child's skin with exotic Rooibos, Kigelia, and African Potato extracts that drive a wave of soothing relief over the most sensitive skin types.
For Optimum Results: This ultra-gentle cleanser contains only six ingredients, for the ultimate in purity: no scents, no colorings, no chemicals, no harsh anything. Can be used as a face, body, or hand wash.
Ingredients:  Distilled extract of African Organics (Kigelia Africana, Rooibos, African Potato), Organic Soap Base (Goat's Milk and Organic Glycerin), Sea Kelp Extract
8 oz. size

Works on my kids' eczema!!
My littlest ones have some pretty serious eczema that seems to break out in cycles. When it does we just wash them, or just legs/arms, when it get's itchy and it seems to really soothe it fast. Within a few days it goes away and they don't have to get those terrible creams slathered on them. Hate that stuff so this is a real lifesaver!