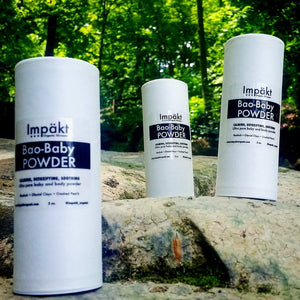 Simple & Clean Organic Baby Powder
This pure and gentle natural organic baby powder will keep you dry and comfortable without any artificial or harsh ingredients.
Baobab fruit powder is renowned for its nutrients and usefulness for healthy skin. Arrowroot powder has been used by indigenous peoples for over seven thousand years and is a very safe alternative to cornstarch.

We use Marine Glacial Clay that is hand-harvested in British Columbia. It helps to detoxify and gently nourish the skin with minerals and vitamins.

Crushed Blue Pearl powder leaves skin silky soft to the touch. Great for children, adults, or anyone that has an issue with humidity.

For Optimum Results: Twist top to dispense as needed.

Ingredients: Baobab Powder, Arrowroot Powder, Bamboo Powder, Marine Glacial Clay

Love this for the whole family!
I have been using this for a few years now and just love it. The powder feels like silk and I feel super smooth and dry after using it. Of course use it on the kids, but they aren't the only ones who get to enjoy being dry and feeling clean.