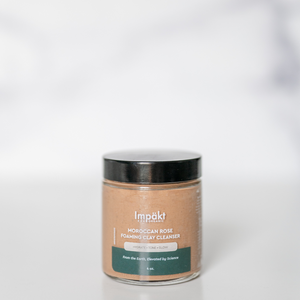 Experience the Moroccan Rhassoul Clay Skin Benefits
For many thirsty skin types, especially: sensitive skin, dry, mature, UV damaged, dry, patchy, uneven tone, or areas with eczema or psoriasis.
This renewing and purifying organic skin cleanser and mask brings life back to your skin with ultra-rich Australian pink clay and hand-harvested glacial marine clay.

The clay combination draws out impurities and detoxifies while the naturally-harvested red algae and sea kelp blend remineralizes cells from within. Hyaluronic Acid fills, intensely moisturizes, and plumps out both fine lines and deep creases alike.
Hand-ground rose petal powder delivers deep rose benefits and gentle exfoliation. Rose Otto and Helichrysum Italicum deliver some of the planet's most powerful healing compounds to both skin and body. Pure honey with organic aloe and African handmade shea oils moisturize and soothe to help uncover a truly glowing complexion.

For Optimum Results:
Use a small, dime to quarter-sized amount of cleanser with a bit of water to create a smooth foaming mask.
Use a slightly smaller amount for a gentle enough mask to use every day or a bit extra for a deeper, richer skin detox.
Leave on for 3-5 minutes (for a fast detoxifying mask) or up to 15 minutes (for very dry/damaged skin).
Massage off or exfoliate off gently. 
Best results are seen if a facial toning oil and/or botanical toner are used after treatment.
Ingredients: Australian Pink Clay, Organic Glacial Living Marine Clay, Moroccan Rhassoul Clay, Hyaluronic Acid, Organic Hand Ground Rose Petal Powder, Coconut Husk Charcoal, Red Algae-derived Sea Minerals, Organic Bamboo Powder, Sea Kelp Alginate Extract, Organic Soap Base (Cocoa Pod Ash, Camwood, Aloe Vera, Pure Honey, Pure African Shea Butter, Lime juice, Plantain Peel, Goat's Milk and Organic Glycerin), Distilled Extract of African Organics (Kigelia Africana, Rooibos, African Potato) Pure African Shea Butter Oil, Organic Extracts (Cacao Seed, Broccolli Seed), Organic Oils (Bulgarian Rose Otto, Corsican Helichrysum Italicum)

Love the products
I am loving it. I like the deodorant and gray foaming face wash too
Smells Amazing
I love a good a product that does a wonderful job of cleansing my face and smells fantastic. My face always feels so fresh and alive every time I use it in the morning. Best part of it is that it's natural.
Good Stuff!
I really like this cleanser, it is more moisturizing than the charcoal one. It does not dry my skin out. It seems to tone and keep my face vibrant. Because it is whipped it does settle in the container. Its gentle enough to use every day.
Thank you Denise! Love your input!
Absolute favorite!
I use this product each morning, it keeps my skin balanced and moisturized. Definitely a keeper
💖💖💖💖💖
Looks like I got a facial treatment
This is awesome! I had previous sun damage on my face and neck so I thought I'd try this. I love the other clay cleanser from this brand! This one is so smooth and clean feeling! I leave it on for about 15/20 min like it says to and after washing it off (with the little loofa disk that comes with it) I can feel and SEE the difference! My face looks tighter and has that moisturized glow. I love anything with hyaluronic acid in it and this does not disappoint!