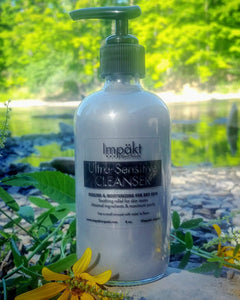 Organic Skin Cleanser For Dry, Flaky, Red, & Sensitive Skin Types 
A luxurious creamy cleanser for sensitive skin that's enriching and intensely renewing, this organic cleanser for dry sensitive skin brings life back to your skin with rich glacier-fed Marine and Rhassoul clays.

Coconut husk charcoal draws out impurities while pure African Shea Oil revitalizes from deep within. Exotic Rooibos, Kigelia, and African Potato extracts drive a renewing force to the deepest layers of damaged skin.

For Optimum Results: These revered African healing plants are known for their antioxidant, anti-inflammatory, and antibacterial properties and their efficacy in the treatment of immune system disorders. Use as a face, body, or hand wash.

Ingredients: Organic Glacial Living Marine Clay, Moroccan Rhassoul Clay, distilled extract of African Organics (Kigelia Africana, Rooibos, African Potato), Coconut Husk Charcoal, Sea Kelp Extract, Organic Soap Base (Goat's Milk and Organic Glycerin), Pure Shea Butter Oil, Steam Distilled Water
Amazing!!!!
I have psoriasis on my feet and it's unbearable at times, this soap doesnt irritate my skin and helps to clear and soothe any spots I have! I use it daily and tell people to use it if they have skin issues as well
It stops the itchy red skin patches!
I use this and the kid's version (the orange looking one) interchangeably and they both work great! I feel this one is a bit stronger but that would make sense because it says it's a more intensive treatment. The red patches start and I start using this a few times a day to calm down those areas (and some during bath or shower time).
:heart:️ love :heart:️ this product!!
I use this as a mild daily facial cleanser and I love the way it leaves my skin feeling & looking. I truly do love all of the products I've purchased from Impakt!!
Thank you so much Stacey!