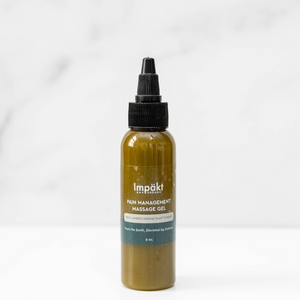 Pain Management Massage Gel  
When chronic or sudden pain enters your life, even everyday tasks can become challenging. This triple-layered and double infused formula brings traditional medicinal plant species from around the globe together in an easy to use and long-lasting gel.

Safe for everyday use for massage, chronic body pain, or medical recovery situations to quickly lower your pain level safely and naturally.
Escape from chronic pain and get back to your life. The plant extracts chosen work with your central nervous system to target specific areas of severe pain as well as general body pains for more complete relief.

This body system approach helps with pain at the localized area that the massage gel is applied on as well as pain all over the body on a more subtle level. Safe for adults, children, in all stages of pregnancy, many illnesses, or during treatments.

For Optimum Results: Apply a small amount (pea-sized) to a targeted area such as a hand or elbow, or a larger amount (small grape-sized) to a larger area such as a leg or back and massage. This gel takes several minutes to soak in but takes effect in 5-10 minutes. Massaging the gel in the area will enhance the effectiveness of the formula.

Ingredients: Organic Oils (Hemp, Oryza Sativa), Organic Beeswax, Botanical Extracts (Arnica Montana, Mediterranean Marjoram, Southwestern Comfrey, American Plantain, Middle Eastern Frankincense, Corsican Helichrysum Italicum, Australian Eucalyptus, American Rosemary, Peruvian Cat's Claw, American Oat Straw, Indian Ashwagandha, Madagascan Niaouli, Australian Tea Tree, Egyptian Calendula, American Catnip, Indian Turmeric Root, American Clove Bud, Crushed Southwestern Aloe, California Poppy, Hawaiian Passionflower)

I love pain massage gel!!!!
Works great! We have used on back, neck, shoulders, feet, knees, and hands. I have recommend to family and friends, they say it's great too!!!!
Quiet relief
I appreciate this formulation for its glide and how well it absorbs. The scent is herbal and pleasing. There is no distinct sensation when I put it on, I just know that the pain decreases wherever I put it. I use it on my hands after work quite frequently.
Worked like a charm!!
This stuff was incredible! It worked immediately, was easy to use and smells great. I had surgery on my knee and have residual pains and this gel took care of it on the spot.
FABULOUS
This massage gel is wonderful. It doesn;t get gummy or sticky. It stays very smooth and easy to work with. The pain relieving aspect is a fabulous bonus. I love the scent as well!!!